I found them very easy to work with and contact and they were courteous and professional at all times. I would not hesitate to recommend them to anyone who wants a professional, polite and complete construction service.
Lee Dodge, Braintree
Find out more
Through all stages of the project CJ Yates Construction LTD proved to be exceptionally well organised, highly professional and delivered exceptional quality of workmanship.
James Johnson MRICS, Associate Surveyor at Barker Associates
Find out more
A wealth of knowledge and expertise in the industry
CJ Yates Construction LTD provide a complete Build, Design and Project Management Service from Conception to Completion.
Braintree, Essex based building contractor providing a wide range of services in the South East. Our success is based upon customer satisfaction where we consistently exceed the expectations of our clients and therefore we benefit from continued referrals from our numerous satisfied customers. We offer a wealth of knowledge and expertise into the industry to every project, whilst maintaining very competitive budgets. Our highly experienced, qualified team are committed to excellence in design, build and customer service.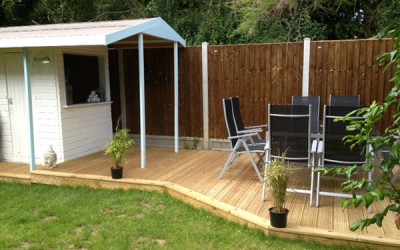 Gardens can become sanctuaries for some of us, somewhere to relax and forget about the trials and tribulations of our busy lives. It's a wonderful place to sit and ponder, listening to the birds and feeling the breeze. We often enjoy entertaining in the summer too,- when we have sunshine, so plan ahead now and we can help you achieve a fantastic space within your budget and in time for the BBQ and beer season. Whatever you would love to have for your great – or small – outdoors, C J Yates Construction will gladly help advise... read more
Our Services
We are able to undertake a vast range of services. Some of the services we can undertake include:
Project Management
Planning and Building Regulations
Construction Management
New Builds
School Projects
Building Design
Structural Engineering
Hard & Soft Landscaping